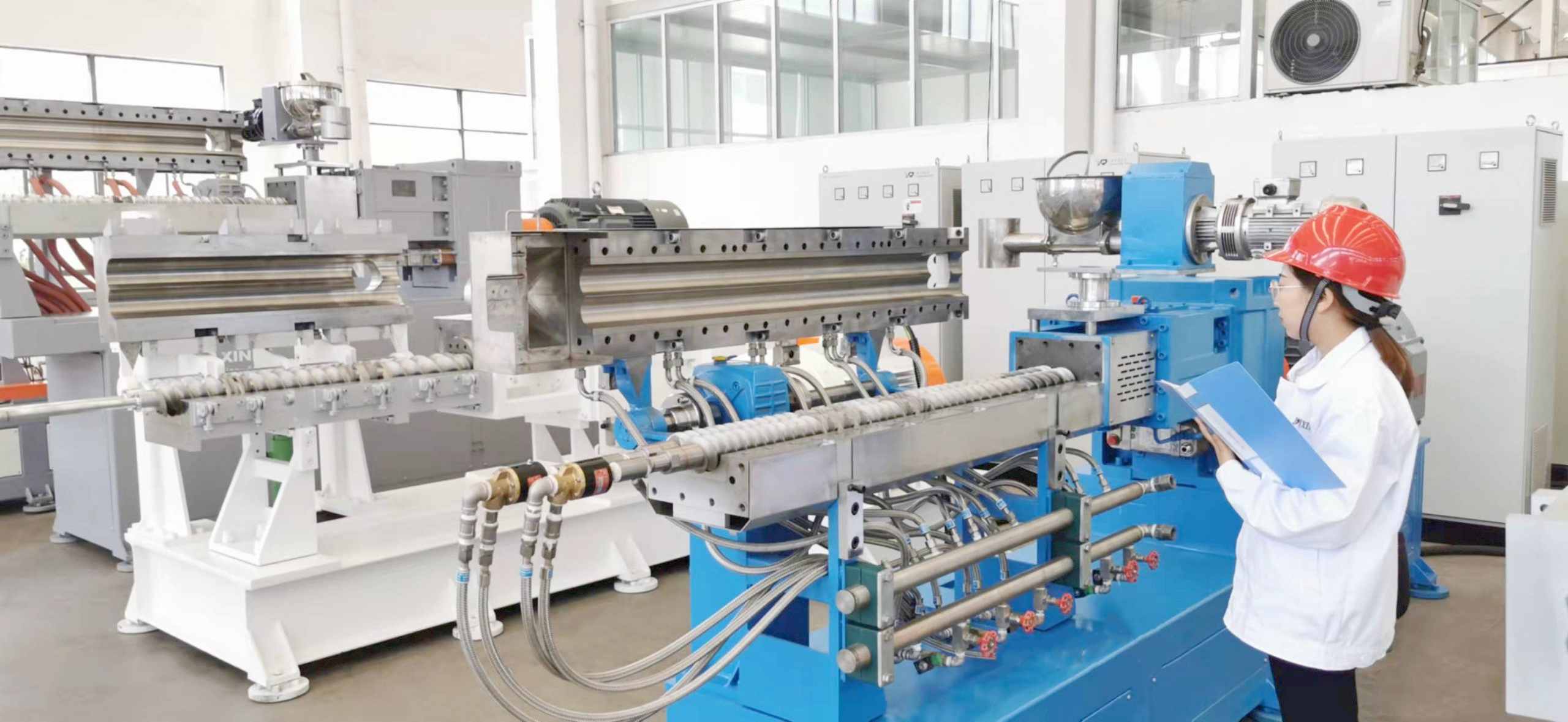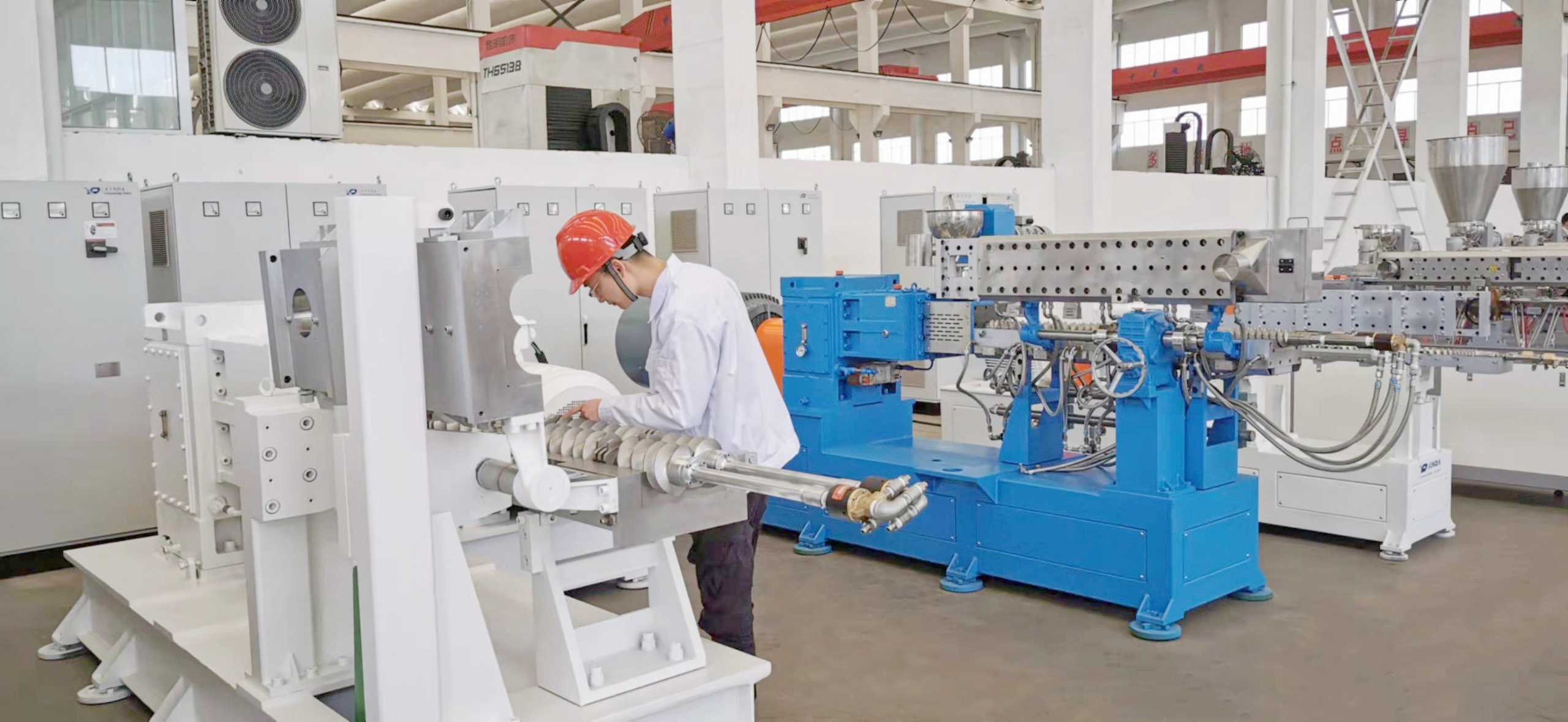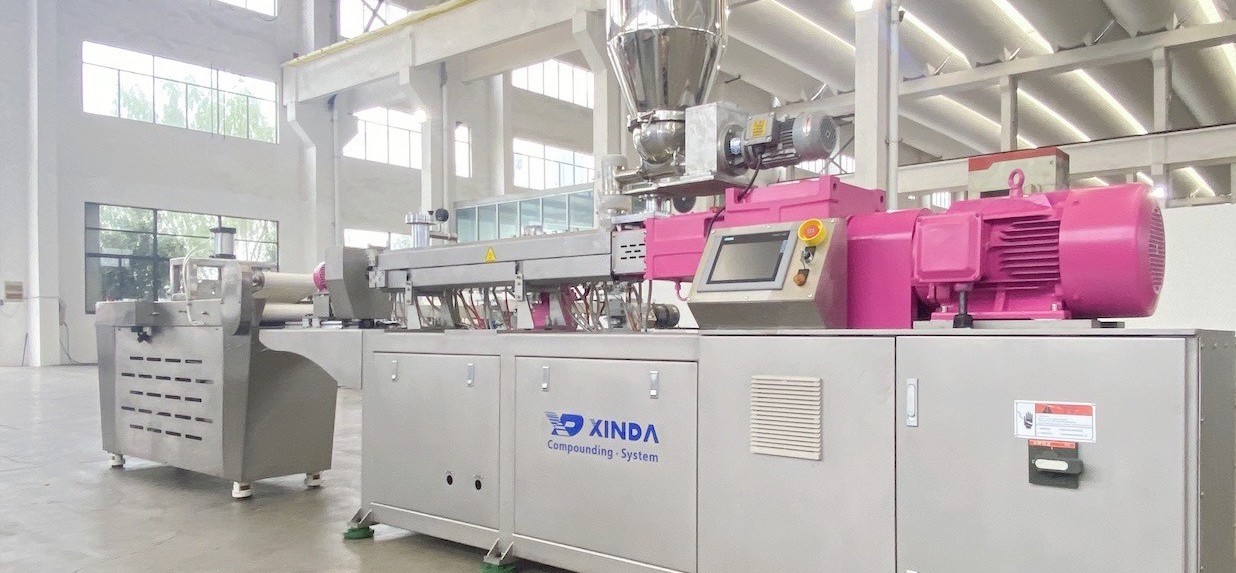 XINDA Twin Screw Extruder
XINDA IS THE BIRTHPLACE OF CHINA'S FIRST CO-KNEADER WHICH IS GOOD FOR COMPOUNDING. XINDA IS ALSO GOOD AT MANUFACTURING TWIN SCREW EXTRUDERS TO MEET VARIOUS MARKET NEEDS.


Modular construction
The XINDA PSHJ twin screw series are built on a modular system. The major advantage of this modular design is the versatile configurations. Processing tasks can be optimally accomplished with only a few barrel and screw variations.
Clam shell Barrel
The barrel can be opened in minutes. This makes product changeover, maintenance and research fast and easy.
Barrel Section- Separately controlled
The modular principle of the barrel permits precise sequencing for each application. Each barrel section's temperature can be set separately. Electrical heater shells provide for heating, cooling is obtained with water. Barrels, as well as screw and kneading elements are made out of nitrided steel in the standard version, the wear resistant version is made of suitable materials, corresponding to the respective requirements.
Standard barrels
The freely selectable order of screws and kneading elements assure the process sections mating the process configuration. Thus, different process zones can be set up interchangeably, according to the requirements for: Conveying;Plasticizing;Mixing and shearing;Homogenizing;Degassing;Pressure building.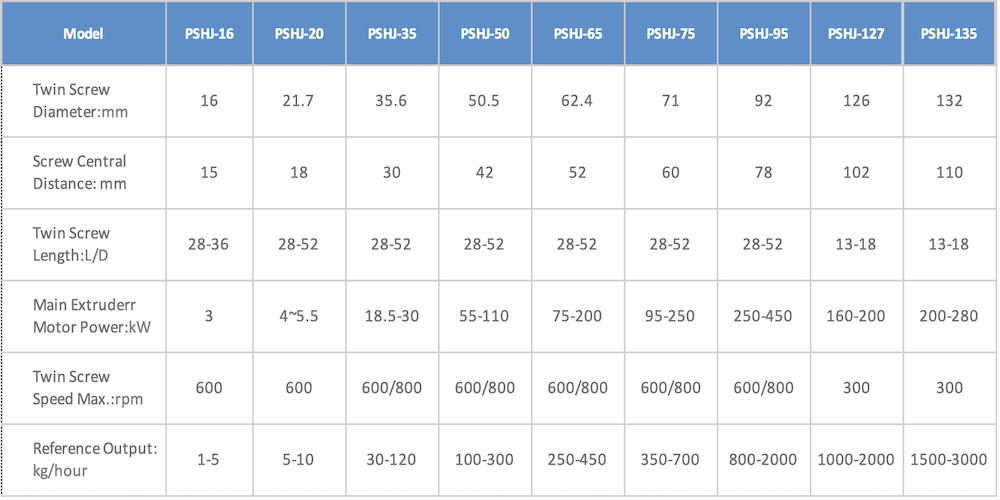 The procedural steps in compounding are:
1.Metering
2.Feed intake and conveying
3.Melting
4.Dispersion/Homogenizing
5.Degassing
6.Pressurization
7.Screening
8.Pelletizing or producing semi-finished products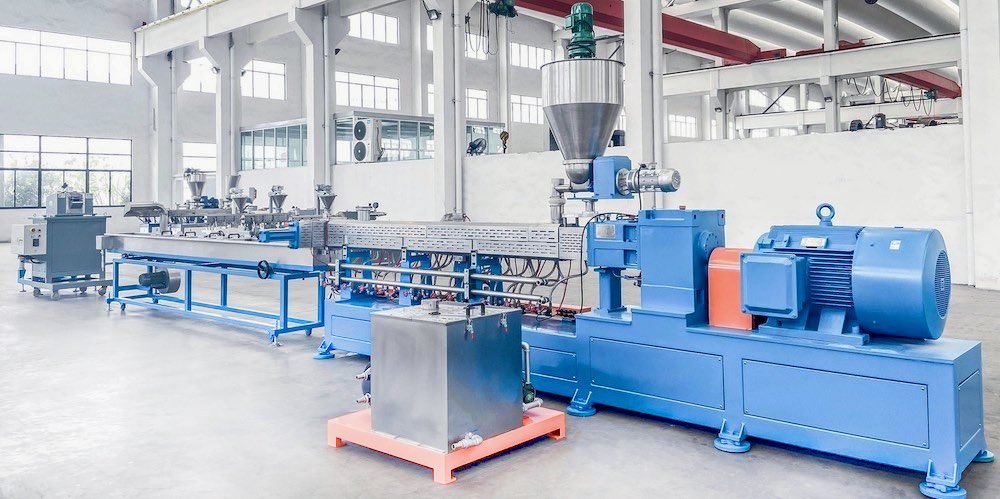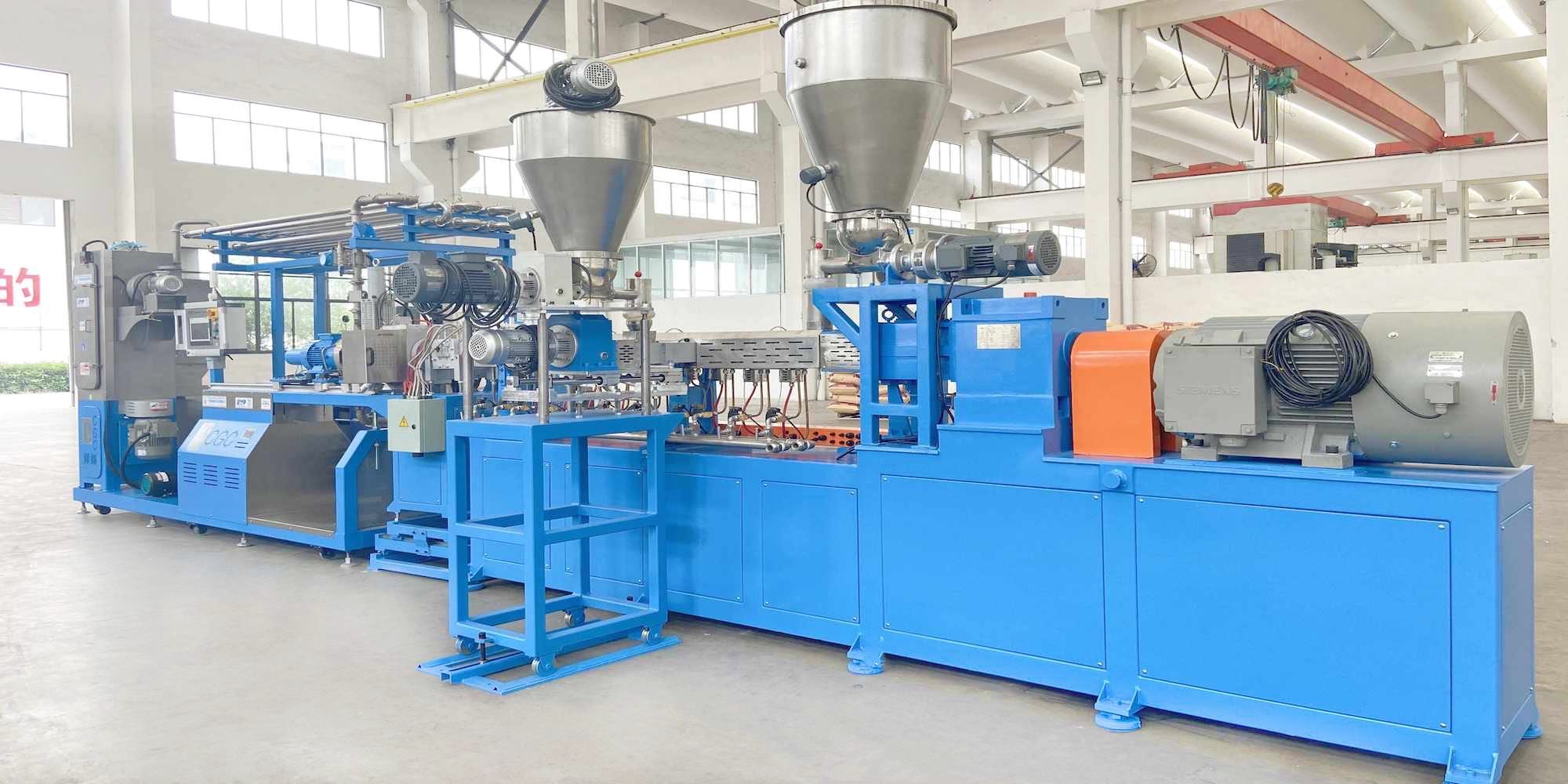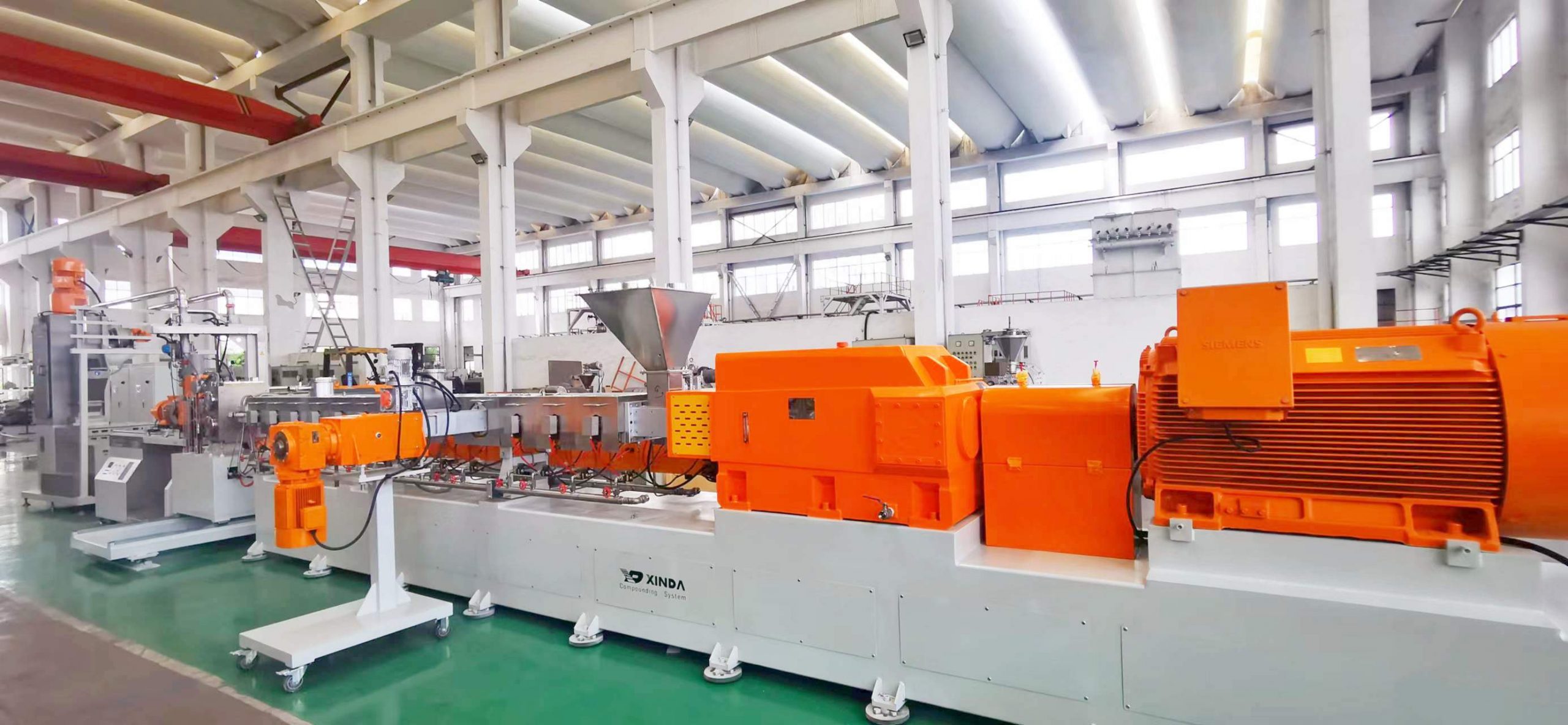 We provide our machinery users with consistent high productivity and product quality and the maximum cost effectiveness with XINDA technology. The XINDA twin screw (P)SHJ series is ideal for precise compounding of polyolefins, engineered plastics and other continuous processes.
Color masterbatch
PE, PP, ABS, AS, PA, EVA, PET+pigment
Filler masterbatch
PE,PP, EVA,etc+ CaCO3, talc, Titanic powder, etc
ABS, PC, PS, etc + ATH, MGH,etc
PP, PA, ABS + ferrous powder, ceramic powder, etc.
Reinforcement
PP. PBT, ABS, AS, PA, PC. POM, PPS, PET+ long/short glass fibers
Functional masterbatch
PE, PP, PS, etc + starch, decomposing agent
PP, PA, ABS, PBT, etc + flame-retardant agent
PE, EVA, ABS, etc + Carbon black
Wire and cable compounds
HFFR; XLPE; Semi-conductive; Sioplas, etc.
Powder coating
Hybrid; Polyester; Polyurethane; Epoxy, etc.
Direct extrusion
Video of Xinda Twin Screw Extruder